By Michelle Westlund '83, senior content specialist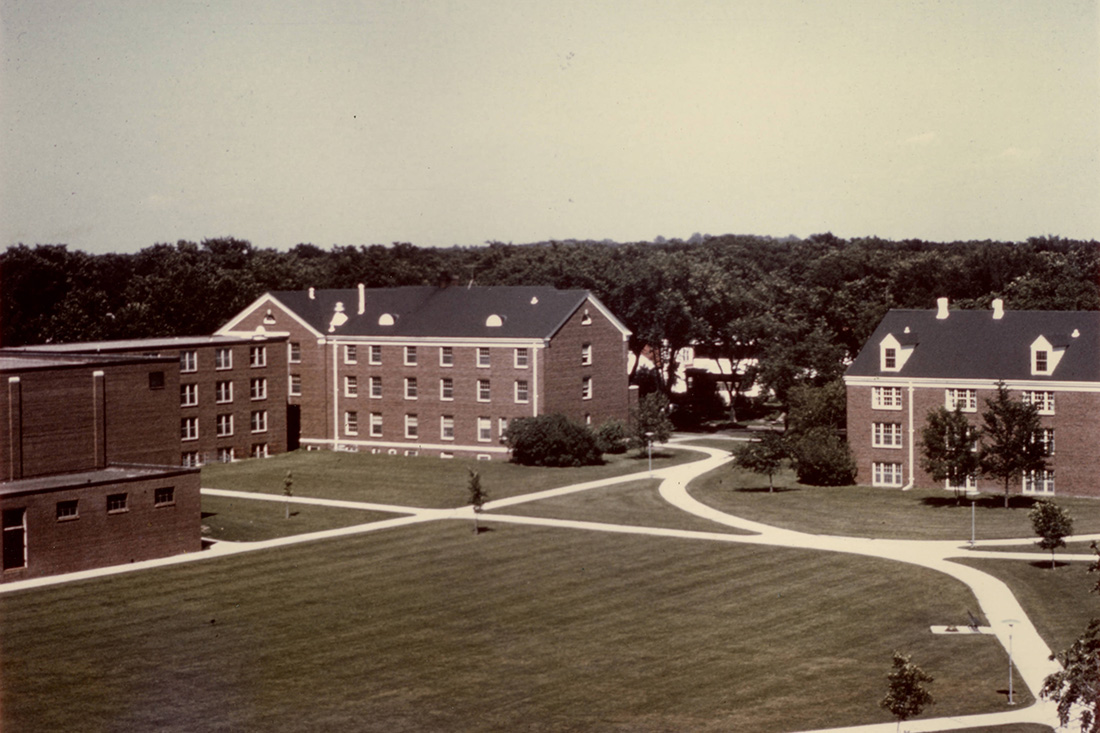 Bethel's original St. Paul campus was on Snelling Avenue. Fred Berndt Jr. was born and raised in a St. Paul neighborhood just a block away from Snelling Avenue.
Fred Berndt Jr. attended Bethel for just one year. But when he and his wife Sylvia decided to do their estate planning, a series of ongoing, lifelong connections to Bethel led them to establish a bequest for the university. Berndt's Bethel connections began with his parents. Fred Berndt Sr. was a 1952 Bethel alumnus, teacher, and librarian in the St. Paul public schools, and his mother, Retha (Creech), was a member of the Bethel class of 1957. Together, they provided bequests to establish the Fred and Retha Berndt Scholarship Fund for Bethel students studying to become teachers.
Fred Jr.'s Bethel connections continued in the neighborhood where he grew up. He was born and raised in St. Paul, and for the majority of his life, he lived within one block of Snelling Avenue, the street where Bethel's former campus was located. A Bethel faculty member lived near Berndt's family, and when it came time for college, both the faculty member and Berndt's father encouraged him to attend Bethel. Berndt became a Bethel student for one year in 1964-1965 before transferring to the University of Minnesota, where course offerings better fit his work schedule.
He graduated with a degree in economics and went on to attend the William Mitchell College of Law, now the Mitchell Hamline School of Law, in St. Paul. But the geography of Bethel and Berndt continued to be intertwined. In 1980, he married Sylvia, and the couple moved to Arden Hills, Bethel's current campus location. And when the university added a Sports and Recreation Center and offered free access to alumni, Berndt took advantage of the invitation, running there in the early mornings before heading to work. "I was always impressed with the fact that you could just lay your wallet and keys near the track while you ran," he remembers, "and you never had to worry that they would disappear!"
After practicing law for four years, Berndt took over the management of a client's business full time, then started his own business in 1987. His company, Arden Architectural Specialties, manufactured entrance grating for commercial buildings, and in another Bethel connection, the entrances to the university's own Benson Great Hall are an example of one of the company's products. Sylvia, who graduated from the University of Minnesota Medical School, worked as a pediatrician at HealthPartners in St. Paul for 35 years, and Berndt managed his business until 2010, when he sold it and retired.
It was then that Berndt chose to make a lasting connection to Bethel-a legacy connection-by establishing a planned gift. Inspired by his parents' example, he decided to follow in their footsteps to establish a bequest for Bethel. He and Sylvia desired, through their giving, to support the education of future Christian leaders at Bethel. "I saw, as my father did, the importance of a liberal arts education with a Christian focus," he says. "As time has passed, the increasing fracturing of our social fabric has only increased the need for Christian leadership in our country and our world. I hope my bequest can, in a small way, further Bethel's calling and mission."
Leave a legacy.
There are so many ways you can leave a legacy that will impact Bethel students for years to come. If you're interested in learning more about wills and bequests or other creative giving options, contact Bethel University's advancement team at 651.635.8053 or visit bethel.edu/planned-giving.