You are at: Planned Giving > Contact Us
Thank you for reaching out to Bethel University. We are delighted that you are interested in further information. We will make every effort to respond to you in a timely manner.
Enter Your Information
Our Staff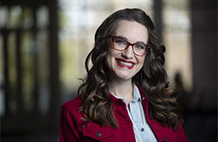 Adel Irwin
Senior Gift Officer / Planned Giving
[email protected]
651.638.6990
I came to Bethel following time serving in youth ministry and nonprofit fundraising. In Scotland, I worked for a charity supporting individuals experiencing homelessness. In Arizona, I worked for a state-wide nonprofit organization. After traveling the world, I'm grateful to be back in Minnesota and back at Bethel. My heart for young people knowing and serving God connects me deeply to Bethel's mission. I value the Christian higher education that Bethel provides. It is truly a joy to see students from my time in youth ministry now studying at Bethel and as Bethel alums making a difference in the world.

My favorite Bethel memory is...
I remember late-night, deep conversations with friends and early mornings in the prayer chapel. My other favorite Bethel memories include transformational courses and professors who challenged me, being a freshman RA, leading a spring break missions trip, and working in the Dining Center cleaning the vent hoods.

My guiding Scripture passage is...
Nehemiah 8:10b: "The joy of the Lord is your strength!"

Outside of work...
I enjoy snuggling my baby and spending quality time with friends and family. I love the outdoors and going on adventures. I have hiked 14ers, run half marathons, and enjoyed many long bike rides.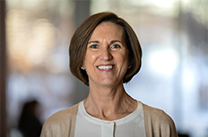 MaryKay Bursaw
Manager of UA Planned Giving and Scholarship Operations
[email protected]
651.635.8053
MaryKay Bursaw has been in a few offices since starting her career at Bethel in 2008, including Church Relations, Academic Affairs and now Advancement. Her role in Advancement recently expanded to include support of scholarships and planned giving administration as of February 2020.

MaryKay and her husband, Mark, have three grown children, all of whom have attended Bethel. It's been a joy for her to be on campus, occasionally hearing "Mom!" across Kresge Courtyard. She and her children have been blessed incredibly by being part of the Bethel community.

Why MaryKay Enjoys Her Work
I love knowing that the work we do is making a difference in students lives, who then go out and make an impact for Christ in the world after they graduate.

Favorite Bethel Experiences
Honest answer — seeing my kids on campus, thriving and enjoying their experience here. I also greatly appreciate the great friendships I have made while working at Bethel, friendships I know will last a lifetime.

Guiding Scripture Passages
Ephesians 3:20-21 and Philippians 4:13

When Not at Work
When not working, MaryKay loves to read, spend time with family (including new Great Pyrenees puppies), and travel (having a son who is pilot is a great advantage!). She is involved in Women's Ministry at her church and also loves to research various health topics to encourage people in their daily journey toward better health!