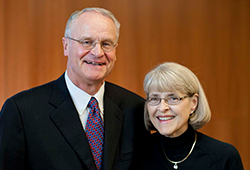 By Jenny Hudalla '15, senior content specialist
February 07, 2019 | 1 p.m.
First, it was the Coffee Club. Then, it was the purchase of a few chairs in Benson Great Hall. A few years later, it was a gift to help build Ona Orth Athletic Complex. Over the last four decades, Pam '72 and Paul Olson have utilized almost every method of charitable giving available-and their gifts to Bethel have extended far beyond the financial.
"To us, time and talent are just as important as treasure," says Pam, who majored in mathematics and was among the first women to graduate with a physics minor. "I had a great experience at Bethel, and our involvement here has remained strong."
Now a member of the Board of Trustees, Pam helps shape Bethel policy, provides guidance on strategic issues, and collaborates with university leaders to ensure that Bethel's evangelical heritage is sustained into the future. She follows in the footsteps of her father, who donated his time to Bethel in retirement as executive assistant to the dean of Bethel Seminary. Upon his death, the Olsons created the Gordon D. Nymann Memorial Scholarship for mid-career seminary students.
"The roots we have here are a huge part of our excitement for Bethel," says Paul, who attended another Twin Cities private college and formed strong ties to Bethel through his relationship with Pam. "Bethel has done a lot for us, so we often ask ourselves how we can give back."
An answer he never expected arrived in late 2000, shortly after Paul-then a founding executive officer of the global e-commerce company Sterling Commerce, Inc.-and his partners decided to sell their successful business to AT&T. President George Brushaber, who had followed Paul's career, read about the purchase in the Wall Street Journal and quickly asked him to consider donating his time and expertise to Bethel. "I was shifting gears in my life," Paul says, "and I started to think about how I really wanted to spend it."
At 50 years old, he retired from his career as a corporate executive, stepped off Bethel's Board of Trustees-where he served from 1996 to 2001-and accepted an advising role in Brushaber's administration. Hardly a year later, he became the senior vice president of university advancement and asked to forgo the salary that came with the position. When Brushaber refused the request, the Olsons decided to use a portion of his compensation to fund a deferred charitable gift annuity.
After receiving a tax deduction the year they created the annuity, Pam and Paul deferred payments for three years. Now, they receive fixed annual payments in retirement-income that will last for the rest of their lives. "We are big, strong advocates of planned giving," Paul says. "The institution's financial viability and sustainability is assured by an endowment, and we want to help grow Bethel's future."
Their deferred gift annuity and other planned gifts-including a charitable lead trust and charitable remainder unitrust-have furthered that goal, but they've also made short-term gifts to Royal athletics, the Bethel University Foundation, the annual fund, capital campaigns, and special projects.
For the Olsons, it's holistic giving to match a holistic education. Bethel's strong academic growth-most recently evidenced by the university's new suite of engineering programs -and commitment to Christ-centered education make Pam and Paul confident that their time and money is well spent. "Bethel has the potential for significant outreach in our communities," Pam says. "We have missionaries in business, in science, and in the humanities. The type of students Bethel produces is very impressive."
During Paul's seven-year tenure as vice president of university advancement and strategic advisor to Brushaber, he helped Bethel transition from a college to a university, expanded the Bethel University Foundation, oversaw the $100 million Next Step Comprehensive Capital Campaign, and helped launch what is now a thriving MBA program. But perhaps the most impactful experience for the Olsons was the in-home Bible study they held with senior business students on Tuesday nights, which fostered intimate fellowship and long-held friendships.
"It was such an enriching time," Pam says. "The sense of community-the sense that other people really care about you-is what Bethel is all about. It becomes part of you, and you feel it for the rest of your life."
Make an impact.
Our planned giving officers are experts in helping donors maximize their security in retirement while simultaneously advancing Bethel's mission to prepare and equip the next generation of Christ-followers. Learn more about creating a deferred gift annuity and other planned gifts-including a charitable lead trust and charitable remainder unitrust.