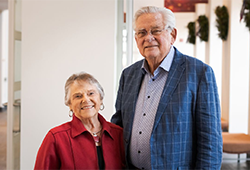 By Monique Kleinhuizen '08, GS'16, new media strategist
July 12, 2019 | 8:30 a.m.
If you visit Bethel and ask about the journalism or communication studies programs, you won't get far without hearing the names Gene and Kathy Johnson.
In the early 2000s, Bethel was planning for the transformation of campus with the addition of Brushaber Commons, the centerpiece of an unprecedented capital campaign. Around that same time, the Johnsons-who are committed to the local community newspaper world-"made a major commitment to journalism at Bethel as part of the campaign," says President Jay Barnes.
Gene Johnson does not have formal academic training in journalism, but he's owned community newspapers since he acquired his first in Atwater, Minnesota, at age 20. The youngest of nine and an orphan at infancy, he has a remarkable life story and built an impressive career in the wake of personal tragedy. He became a widower with a 10-year-old daughter and-connecting over shared Converge roots and Festival of Christmas-later married Kathy (Stuckmann) Johnson. The couple had three more children and sent two of the four to Bethel, where Gene served on the Bethel Foundation Board of Governors and then the Board of Trustees at the request of then-president George Brushaber.
As his career grew, Gene remained committed to encouraging a free press nationally, serving as president of the Minnesota Newspaper Association (MNA), Suburban Newspaper Association (SNA), and National Newspaper Association (NNA). Today, he and son Carter '98 own 22 publications in Minnesota and Western Wisconsin, while he and Kathy have fused ministry and media through involvement with the agricultural nonprofit ECHO and by consulting on newspaper management in developing countries. But they wanted to do more to build a pipeline of capable, Christian journalists close to home.
The Johnsons officially established Bethel's Johnson Center for Journalism and Communication in 2008, committing to annual contributions to a restricted fund over 15 years. The center exposes students to some of the top journalists and communicators in the world through on-campus lectures and special events. Alongside the inception of a journalism major around the same time, the fund underwrites equipment and materials for courses and the Clarion student newspaper , student travel to national journalism conferences, and funding for internships and scholarships. In recent years, the Johnson Center has funded printing of the award-winning Textura magazine-developed start-to-finish by student journalists and designers abroad during Interim-and The Maxfield Times, created collaboratively by Bethel journalists and elementary students from the Frogtown neighborhood of St. Paul.
In short, the center provides experiences and resources that set Bethel's program apart from others. To the Johnsons-who are keenly aware of the shifting landscape of community journalism and the culture in which it operates-it represents a long-term investment in the Christ-centered journalists of tomorrow.
"Today Americans get their news from both print and digital sources, and we've had to adjust our business to keep up with that. Most of the world thinks print is dead, and yet I don't think so," Gene says. He underscores the increasingly fast-paced natured of journalism and the importance of students building specific skill sets, from grammar and editing to the ability to manage time and meet deadlines. It's only by hands-on experience that those skills will be acquired, he notes. But at the annual dinner he and Kathy host for students in the program, they hear firsthand about students' diverse connections and experiences-like meeting David Brooks , developing advocacy stories in Guatemala, or rubbing elbows with collegiate journalists across the country. As Gene shares his story over dessert, and students share their own, eyes light up. "There's such hope in seeing these young people get excited about the same things we've grown to love and hear them talking about the experiences they've been able to have. It's so rewarding."
The Johnsons have taken a layered approach to supporting the center. As part of their estate plans, they established a charitable remainder unitrust (CRUT) to help fund the center long-term while also providing tax advantages to their family as they enter retirement. Part of the residual value of the CRUT will be used to fund an endowed scholarship supporting journalism students with financial aid for generations to come.
"The Johnsons' passion for journalistic excellence has elevated Bethel's trajectory … Their encouraging connections with students and faculty have encouraged us to 'stay the course' while exploring the best ways to prepare leaders in a rapidly changing world. Kathy and Gene ask great questions. Because their experiential base in journalism is so deep, they know the challenges that come with running a business that is committed to presenting the truth, regardless of where the facts point. I am deeply thankful for their friendship and long-distance view of what is needed to move a program from good to great." - President Jay Barnes
"The Johnsons' gifts have enabled the journalism department to attract more students-and the student opportunities they've created have served as an amazing recruiting and retention tool for journalism majors," adds Senior Development Officer John Neibergall, who began his career in community journalism and has found a "kindred spirit" in Gene Johnson since joining the staff at Bethel.
Much as Bethel's athletic teams have dedicated supporters who help underwrite travel and equipment costs, Neibergall has walked alongside the Johnsons-together with Associate Professor of Journalism Scott Winter, Associate Professor of Journalism Yu-li Chang Zacher, and Johnson Center Director Dave Kansas -to connect their animating passion, journalism, with gifted students and real needs at Bethel. After more than a decade of partnership, the result has been tens of dozens of graduates who've brought their foundation in the Christian liberal arts to land impressive roles in the local and national media. "At Bethel, we hope to build into our students, as Christ-followers, a fervor for their faith, integrity in all things, strength of character, boldness in witness, and compassion for a world that still lives in darkness," Neibergall adds.
To Kathy, there's also an element of simple obedience in their support. "It's God's money, not ours," she says. "The blessings need to be passed on. We hope that we can continue to use our gifts and blessings from the Lord to be of service and reflect our love of Him … The field of journalism offers so many opportunities. We've discovered that God gives us opportunities in many aspects of our lives. According to our willingness to say yes, the blessings arrive."
Make an impact.
Learn more about creating a charitable remainder unitrust (CRUT) and Endowing a Scholarships that can advance Bethel's mission