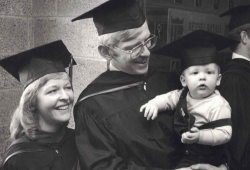 Paul '76, S'83 and Ruth Goddard '72, S'83, and their son, Timothy '04, all cherished the time they spent at Bethel—and the transformational programs and vibrant community they experienced. After Paul died of cancer in 2019, Ruth and Timothy knew the perfect way to honor his legacy—by helping future students have similar opportunities.
By Jason Schoonover '09, senior web content specialist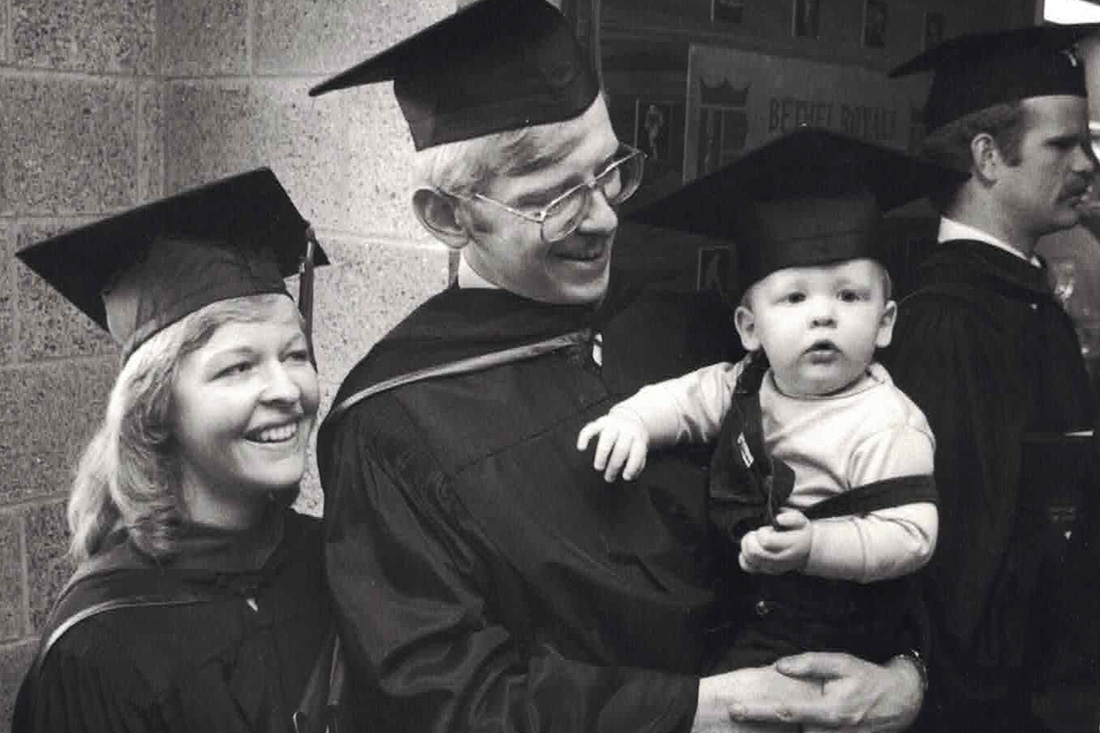 Growing up, Timothy Goddard '04 remembers Bethel holding a special place in his household. His parents, Paul '76, S'83 and Ruth Goddard '72, S'83, both attended Bethel, and they deeply valued the formative experiences they had as undergraduate and seminary students. "Both my parents clearly valued their time there—both the relationships they built and the way that it shaped them as people," Timothy says. After Paul died of cancer in 2019, Timothy and Ruth knew the perfect way to honor his memory—by giving back to Bethel and future Bethel students.
Starting in fall 2023, the Paul Goddard Scholarship Fund will provide support to seminary students with financial needs. "Bethel Seminary was such a formative experience, and the opportunity to help others with similar goals and outlooks to go through the same kind of experience is an exciting opportunity," Timothy says. "We want to help equip people with a similar love for God and others make similar impacts on the world, even if they aren't the kinds of impacts that get the attention of the world."
Paul came from humble origins and was the first in his extended family to earn a bachelor's and a master's degree. He built close relationships with professors and friends at Bethel as he majored in communications studies. To Ruth, Bethel was an answered prayer as she found a place where she belonged and she could flourish. In the music department and at Bodien Hall, she found strong friends and mentors who made her feel seen and heard while encouraging her—things she hadn't experienced much. "At Bethel, I was just surrounded and immersed in friendships and classes and in the love of God," she says. She left Bethel as a much more outgoing and confident woman, which helped prepare her for the work in music and ministry that would define her life. "I wouldn't be where I am right now if it wasn't for Bethel," she says.
Though both Bethel graduates, Paul and Ruth connected and married later when Ruth moved to Portland, where Paul grew up, and she started attending the same church. Ruth expected to be a music teacher. But she lost hearing in one ear, making classroom management difficult. But God led her in a new direction. After a mentor affirmed her and Paul's call to ministry, Paul and Ruth briefly attended a West Coast seminary before finishing their degrees at Bethel Seminary. They deeply appreciated the breadth and depth of the Christian faith explored through Bethel programs, and they loved how students explored and learned with love and respect for one another. "Paul and I so treasured our time at Bethel," Ruth says. "He, like me, was empowered in so many ways."
After working as an interim pastor in Russell, Minnesota, Paul planted churches in North Fork, California, and Everett, Washington. Through it all, Ruth and Paul ministered together. After starting her career with Youth for Christ, she also worked as a worship pastor, owned a music company for a time, and taught music lessons. Music has been a lifelong passion, and she found great joy in helping "tone-deaf" people find joy in singing, which highlights a deep conviction that singing—regardless of the quality—is a vibrant form of worship. She even wrote a book—Singing for Non-Singers: You CAN!—and a chapter in another book on the subject.
Paul eventually changed career paths, studying technical writing and working many years at Boeing Co. in several roles, including as instructional systems designer and developer. But he never lost his ministerial spirit, and Ruth says he continued bringing people to Christ through his friendships and the way he engaged with his coworkers. "He just loved it," she says. After leaving full-time ministry, Timothy recalls his father saying he wanted to be the type of layperson that he always wanted to have in his church.
After a five-year battle with cancer, Paul died on March 18, 2019. On one hand, Timothy notes it may have bewildered his father to have the fund named after himself—but that's only because he was a deeply humble person who sometimes overlooked the deep impact he made. "My father was the best person I ever knew," Timothy says. "His entire life, both when he was actively pastoring and afterward, was devoted to loving God and loving others." Ruth knows Paul would be ecstatic about the scholarship. As a future-oriented thinker, Paul planned and worked to give generously with plans to form trusts for his grandchildren and establish a scholarship. Ruth is thrilled to attain Paul's goal of supporting the strong training of pastors in a place where scriptures are thoroughly explored and studied. "He loved to give," she says. "It was one of his greatest joys. And Bethel was one of his greatest joys."
Use your gifts to support Bethel students.
Your generosity provides students with outstanding preparation as they journey to become the world-changers God created them to be. If you're interested in learning more about forming a scholarship or other creative giving options, contact Bethel University's advancement team at 651.635.8053 or visit bethel.edu/planned-giving.