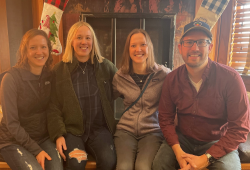 Jody Kobbervig '03 absolutely loved her Bethel experience. Twenty years after she graduated, her closest friends are still the people she met during her time at Bethel, including many women from her freshman floor. She loved her business classes and appreciates how Bethel professors helped her discern what she was meant to do. After taking her first accounting class with Professor of Business Bruce Olsen , she felt like she found her calling in the accounting and finance field. She hoped that one day she'd be able to use her business skills and expertise to serve others, and today, she's been able to give back to the Bethel community.
Kobbervig has served on the Bethel Foundation Board of Governors since 2017. They were looking for individuals with accounting and auditing experience, which Kobbervig had developed from her time at Bethel and beyond. She says her professors prepared her for what life would be like after college-both in the business world and as a Christ follower. "The Bethel business professors are simply the best," Kobbervig says. "They encouraged me and gave me confidence in my own abilities-many that I didn't even know I had. They taught me about ethics, money management, giving, and what it means to live out your faith." Because of their guidance and support, Kobbervig knew what to expect when she started at EY, a professional services company, in public accounting after graduation. She passed the Certified Public Accounting (CPA) exam on her first try in November 2003.
"I am so thankful for my Bethel professors' wisdom and guidance, and for the time they invested in me and so many other students. I still remember so much of what I learned from them, and I believe I am who I am today because of their influence."
-Jody Kobbervig '03
Kobbervig transitioned from EY to Best Buy in 2009. She currently serves as senior director in controllership and oversees a team responsible for accounting for various components of Best Buy's business. She loves her team and the leaders she works with. All of this experience has helped her grow her skills and her desire to give back to the communities that have formed her. "Being a part of the Board of Governors is one way I can do that, and I feel so blessed to be able to serve with this group," Kobbervig says. And during her time with the Board of Governors, she has realized how easy it is to give financially to Bethel.
She established a donor advised fund (DAF) with the Bethel University Foundation . DAFs offer individuals a flexible vehicle for charitable giving, and having a DAF is similar to managing one's own private foundation-but without the fees, taxes, labor, and filings required to start and maintain such a foundation. The Bethel University Foundation invests funds carefully and prudently for growth, which allows donors to direct gifts to 501(c)(3) organizations of their choice. At the end of the DAF term, the remaining fund balance becomes an asset of designated charities, including Bethel, so the gift continues to impact student lives beyond the original time frame.
The student impact was a driving factor for Kobbervig, whose family depended on financial aid when she was a Bethel student. She was one of four children who all went to private colleges, and three of them were in college at the same time, so she knows how much of a difference any financial aid, scholarships, grants, and student loans could make on each of their lives and for their family. "I am so thankful for all of the aid I received to make college more affordable," Kobbervig says. "I want to give back to Bethel because Bethel has meant so much to me, and I want to do what I can to make sure other students can have the same experience."
Use your gifts to make a difference.
There are so many ways you can impact Bethel students for years to come. If you're interested in learning more about donor advised funds or other creative giving options, contact Bethel University's advancement team at 651.635.8053 or visit bethel.edu/planned-giving .