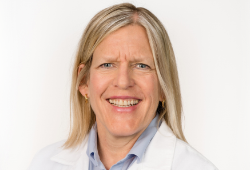 Since Dr. Krista Kaups '79 graduated from Bethel, she's gone on to work as director of the Surgical Intensive Care Unit at Community Regional Medical Center in Fresno, California. She also serves in the leadership of several professional organizations. She is chair of the Trauma, Burns, and Surgical Critical Care Board, and is involved with the American Board of Surgery and the Committee on Trauma, which is part of the American College of Surgeons. She also remains dedicated to supporting and serving current and future Bethel students.
By Jason Schoonover '09, content specialist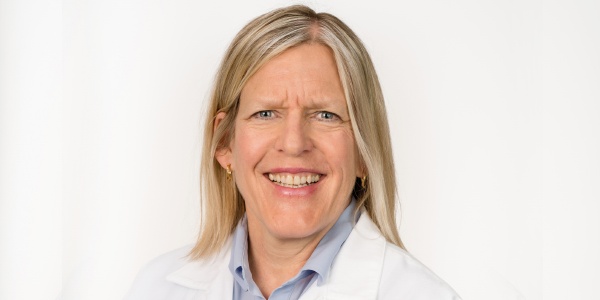 A few days before her 60th birthday, Dr. Krista Kaups '79 was on call at her hospital when several close family members who had traveled from out of town arrived to surprise her. For her 60th birthday, they helped her attain a dream by forming the Krista L. Kaups Scholarship Fund, which helps Bethel students with financial need pursue careers in medicine. It was the latest step Kaups has taken to help students have a life-changing experience at Bethel.
Kaups credits Bethel and the Department of Chemistry with helping her form a strong base to prepare her for her career as a surgeon. Today, she serves as director of the Surgical Intensive Care Unit at Community Regional Medical Center in Fresno, California. She also serves in the leadership of several professional organizations and helps train new surgeons and doctors. And she remains committed to Bethel, giving back so future generations of students can have a similar experience.
Kaups has supported Bethel's recent efforts to expand its science programs and facilities. Bethel has added degrees like computer engineering, electrical engineering, and software engineering. But Kaups is perhaps most excited about the state-of-the-art spaces added through the three-story, 18,000-square-foot Nelson-Larson Science Center, which opened in 2020. Kaups says Bethel now has the space to match the skill, acclaim, and quality of its professors in the sciences. "You've got these high-quality faculty who could be teaching at any number of places with bigger resources. Now this ensures they have the facilities they need," she says.
Along with also including Bethel in her will, Kaups served two term—12 years—on Bethel's Board of Trustees. The experience helped her gain a new appreciation for those who serve Bethel and its students. "It was just a real privilege to just watch and be part of a group of people who were so deeply committed to the mission of Bethel, to Bethel students, to preparing people to be salt and light in the world," she says. It also helped her see that all gifts to support Bethel matter. Though large gifts are important, she says it's more important that as many people give what they can. "I do think the important thing is everyone giving what they're able to, supporting the mission," she says.
Though a Bethel supporter throughout her professional life, Kaups originally planned to only attend Bethel for a year. But shortly after Welcome Week, she told her parents she planned to stay. "It was just the feeling of inclusivity and the ease of meeting people, the sense of purpose throughout the campus," she recalls. She earned a biochemistry degree—a non-standard specialization at the time—and found a strong sense of community. She fondly remembers barbecues at her professors' homes and even a "biochem buffet" at a Friday class. And Kaups also forged close connections with her professors. "They were very open and they modeled excellence in learning and humility," she says. Overall, her time in the Department of Chemistry helped her learn how to learn, which prepared her for medical school and a life of acquiring knowledge.
In medical school, Kaups was drawn to surgery. She appreciates the immediate opportunity to address a problem when surgery is required. Today, she specializes in general surgery and also focuses on trauma and critical care. "We get to take care of some of the sickest patients in the hospital," she says. Kaups is also dedicated to training new generations of doctors at home and around the world. She spent two months in West Africa during her final year of medical school. Since then, she's traveled to South Sudan, Kenya, Ethiopia, Afghanistan, and more. While she traveled abroad to perform operations, she has found it's only a drop in the bucket of helping those in need. Instead, she strives to pass on her skills to doctors abroad so they can perform surgeries and reach more people.
At home, Kaups also works with the Surgical Critical Care Fellowship at the UCSF Fresno Center for Medical Education and Research. "I've discovered over the years there's joy in sharing information," she says. Though Kaups rarely teaches in a classroom, she serves a key role teaching medical students and surgical residents. She shares her expertise with them and guides them as they gain hands-on training and experience. Though it comes with challenges and frustrations, Kaups says working with young doctors encourages her to continue learning as well.
Throughout her career, Kaups has deeply appreciated the connection she forms with patients and their families. She serves families in a challenging time. Most trauma patients were fine before suffering a calamity that sent them to intensive care. While Kaups loves seeing her patients return to their homes, jobs, and families, she strives to support families in good times and bad. "Stories don't always have happy endings, and sometimes the best thing we can do is support families," she says.
While Kaups is dedicated to patients and families, she says it's God who heals. Driven by the knowledge that every person is created in God's image, Kaups strives to treat her patients, colleagues, and learners as if they bear that image. Kaups says COVID-19-and the isolation and loneliness it caused-helped her reflect on the need for a faith-driven worldview in medicine. "There's certainly a need for people who can minister to other people, who can listen," she says.
Leave a legacy.
There are so many ways you can leave a legacy that will impact Bethel students for years to come. If you're interested in learning more about wills and bequests or other creative giving options, contact Bethel University's advancement team at 651.635.8053 or visit bethel.edu/planned-giving.