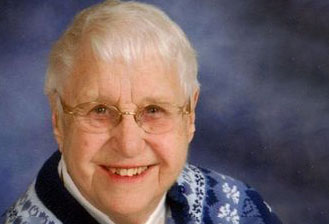 Florence "Flossie" Winquist shares how Bethel University has impacted her life from the time she was a child.

When I look back at my life and my time at Bethel, I can see how God was in it all the way. I grew up during the war, and my parents were strapped financially, but God provided for me to attend Bethel. It has since become a part of me. I always tell people, "Bethel has been my family."

My given name is Florence Winquist, but most people know me as Flossie.

My Bethel story began when I was a girl growing up in a small Iowa farm town. When I was 6 or 7 years old, Virgil Olson came to our church with the Bethel Male Chorus. He sang, played piano, and even stayed in our home. Virgil went on to become a Bethel Seminary professor and Bethel College dean. It was my first glimpse into why so many "Bethel people" have a lifelong relationship with this unique place.

I had older brothers serving in the military when I was in high school, and I assumed I would stay home after graduation to help my dad on the farm. Some of my classmates went on to study nursing. One day, I encountered an old classmate on her visit home who told me, "I've been thinking of you, Flossie; I think you need to go into nursing." A lady in my church had also suggested it. I thought, "Maybe I'm being nudged. Maybe I should look into this some more."

My high school didn't have great science classes, so I decided to enroll at Bethel. I needed to brush up on anatomy and chemistry if I was going to attend nursing school. Bethel was just a small square on Snelling Avenue back then. It was a very different time and place, and yet people weren't so different from today. We helped one another out, because it was the natural thing to do for a person in need. We knew how to do community.

I attended nursing school after one year at Bethel and became a nurse at Fairview Hospital. Before long, I got a call from Bethel. I interviewed for the position of campus nurse, never really intending to take the job. Afterward, President Lundquist walked me around campus and introduced me to people, saying, "This is our new nurse." I was as surprised as anyone! But I felt this was where God wanted me. I cared for thousands of students as campus nurse for 36 years.

The Sermon on the Mount says, "Choose your purses that do not decay." As a student at Bethel, I thought, "That's what I need to do." I gave when I could. And I've been supporting Bethel ever since. This ideal still inspires me today.

Bethel is a great school—I know what students have the privilege to learn here. And I know firsthand about the lifelong relationships that are formed at Bethel.

I know that what students get at Bethel is lasting and worthy of my investment.

Learn more about how a Charitable Bequest and an Endowed Scholarship can advance Bethel's mission .