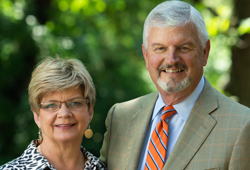 By Jason Schoonover '09
July 26, 2018 | 4 p.m.
Becky Johnson walked out of a conference room recently in Bethel's Alumni Lounge to be greeted and hugged by Troy Kopischke, a former member of The Genesis Class. Becky and her husband, Alan, led the class of eight to 10 young couples for several years at Olivet Baptist Church-now Cornerstone Church Crystal-and they remember being struck by the spiritual maturity, intelligence, humor, and energy of the members.
The Johnsons found a common denominator: Most of them graduated from Bethel. "We were so impressed with them that we thought there's got to be something good happening at Bethel. Based on what we saw of the graduates, we could tell it was a special place," Alan says.
For the Johnsons-and many in the class-the experience proved to be a springboard for service, especially at Bethel. The couples witnessed the Johnsons' generous natures, and many strove to emulate that service-oriented spirit. "They gave their time, their home, their connections; they shared their faith and their experiences with us in our Sunday school class," says Kopischke, who now serves on Bethel's Board of Trustees with Alan. "I always remember how excited they were to see us and their genuine love and concern for our families."
Kopischke and Jeanne Osgood, another former class member who is now a senior development officer at Bethel, credit the Johnsons for passing on a service-oriented mindset. "Becky and Alan were instrumental in laying that foundation for us," Osgood says. While the Johnsons say that wasn't intentional, Alan admits "it's fantastic to hear that."
The Johnsons' ties to Bethel grew. Their two children attended several events at Bethel through their church growing up and both eventually graduated from Bethel, Adam in 2000 with a psychology major and Amanda the following year with a business major. She later earned a master's in counseling from Bethel. Alan-who worked for Wells Fargo for 36 years, retiring as a regional president-rejoined the board of trustees last year after serving two prior terms.
Bethel remains a unique place to the Johnsons. "One of the things that we love about it is that it's a university that's trying to actually be true to its mission and has endured through a lot of change and pressure to change what it does," Alan says. "But it's been able to be consistent in achieving excellence in Christian education."
That's a key reason the Johnsons support Bethel to this day. Since 2013, they've done almost all their giving through a Bethel Foundation donor advised fund (DAF). "Anyone who desires to be philanthropic and hasn't used a vehicle like a foundation, absolutely should check it out-[they] should fully understand it before they decide how to do their giving in the future," Alan says.
DAFs are like having your own foundation-but without the legal fees, taxes, and filings required to start and maintain a foundation. The fund is invested for growth, and families can make annual gifts to 501(c)(3) charities of their choice. While 50 percent of the funds given in the first three years-and 25% after-must be given to Bethel, the Johnsons now use their DAF for almost all their giving. "It's kind of like our savings account for giving," Alan says.
Through their DAF, the Johnsons support their church, Big Sky Christian Fellowship, in Big Sky, Montana, and they support missionaries. Living near Yellowstone National Park, the couple also gives to Yellowstone Forever, a conservation nonprofit, and they give to a local watershed group. They've also given through an adoption 501(c)(3) to support the adoption efforts of family friends. "It's been fun to sprinkle it around like that," Becky says.
DAFs offer various tax benefits, too. With the tax law enacted in 2017, the Johnsons and financial advisors recommend using DAFs to bundle multiple years of giving to exceed the standard tax deduction in one year for a write-off. Families claim the standard deduction the next year. Through the DAF, the money can then be dispersed to charities over several years.
Associate Vice President for Planned Giving Dan Wiersum calls DAFs "a service to our donors" and notes the funds are carefully and prudently invested, while only allowing contributions to like-minded organizations in line with Bethel's values.
Becky agrees, saying this has allowed her to watch their fund and their giving grow. Plus, there is no management fee, Alan adds. "You're not paying fees, you're allowing the investment in the fund to grow tax-free," he says. "The growth in the fund helps fund additional giving. And the amount that's in there is invested well."
To Alan, Bethel's commitment to its vision and values inspires the family to continue to serve and support the mission to make a difference in the lives of students.
While he says few truly know how difficult it is to run a college, Alan lauded former President George Brushaber and current President Jay Barnes for remaining committed to Bethel's vision. "That's a rare organization these days," he says. "Most organizations have to give up on some things or things happen that cause them to be blown off course, and they lose direction. Bethel's avoided that."
Alan thanked the faculty, staff, and Bethel leadership for being able to endure and remain committed to keeping Bethel a Christ-centered university. "They've been wise and discerning in staying true to the course," he says.
For Becky, it all comes back to a commitment to service, as she recalls the servant towels given to graduates as being symbolic of what students learn at Bethel: "That your mission is to go out and serve."
Learn more about how a Donor-Advised Fund can advance Bethel's mission.