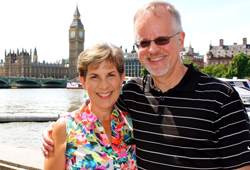 By Katie Johnson '19
August 31, 2018 | 3 p.m.
Dean and Tammie Junkans '83 give to Bethel through a scholarship they've created-and through a donor-advised fund. However, they make sure the university receives more than their money. This holistic giving approach includes their time, talents, and financial assistance, and when asked to share more about their perspective, this is what they had to say:
How are you both connected to Bethel?
Tammie: My connections go long and deep. My grandma and grandpa went to Bethel back in the 1920s at the Bethel Seminary and Academy. Obviously, they met there. Both of my parents went to Bethel, and they met there. Both of our kids went there. So, Bethel has been hugely formative in our lives regarding career development, leadership development, and relationship development. I was there from 1978 to 1983 and graduated with a music education and elementary education double major.
Dean: I sort of married into the Bethel legacy. I got involved about seven or eight years ago, going on the Bethel Foundation Board of Governors, and then a couple years ago, I became chair of the investment committee. Three and a half years ago, I retired from my full-time job as chief investment officer for wealth, brokerage and retirement of Wells Fargo, and started teaching about investments as an adjunct professor. This past academic year, I helped launch the student-managed investment fund-the Royals Investment Fund, LLC. I also spend time mentoring students in business and economics because I have a lot of experience to draw from, and I also get a lot out of interacting with students.
Can you describe how you've given financially to Bethel?
Tammie: We put a scholarship in place a number of years ago.
Dean: But it's actually not for business. It's for science.
Tammie: I don't want to give out too much information because it's anonymous, but it is designated for students studying science named in honor of someone I knew at Bethel. We don't want the attention to go to us. However, it's awesome because every year we receive postcards from Bethel that have a picture and a little bio about the students who benefit, so we get to see every year that students have opportunities that they might not otherwise have. We love that.
Dean: We have a donor-advised fund through Bethel, so a lot of the annual distributions we make out of there go back to support various initiatives at Bethel. Probably, the biggest area that we funded this past year or two was helping that student-managed investment fund get started. We really believe in experiential learning, and so this was an easy area for us to get passionate about.
In what other ways have you supported Bethel with your resources?
Dean: Both of us really like the combination of giving time, talent, and monetary resources. Being on the ground, if you will, connecting directly with students just gives you a different perspective and appreciation for how monetary resources are being used to literally change the lives of students. If you can see it from that perspective, you actually want to do more.
Tammie: I'm a worship pastor at Calvary Church. One of the ways I give back to Bethel is that I lead the BUnited in Worship, formerly Hymn Sing, every year during Homecoming weekend, and that is super cool for me because music at Bethel shaped my life in ways that nothing else has, and that's my whole career now. It's neat to be able to facilitate worship for people at Bethel and know that I can do that largely because of what the school did for me.
Tammie, can you explain a bit more about your experience with the Bethel music department?
Tammie: I sang in the Women's Choir for four years. In the choir, I found community. I found leadership opportunities. I was a section leader. I was the chaplain for the choir, and those experiences of traveling together, singing together, praying together, and making music together really shaped me.
There's such community in the arts. It's not just that [students] love to sing or play an instrument or something like that. There are so many benefits in addition to what they train for, and that's probably true of all of the disciplines. We watched our kids grow in confidence and problem-solving ability that can translate to any situation.
Dean: Speaking of that, our daughter, Erin King '12, and our son-in-law, Carson King '13, have both plugged in. Erin is on Bethel's National Alumni Board, and she works with young alumni. They've both been involved in BethelBiz as well.
Can you tell us a little more about the legacy you hope to leave at Bethel?
Dean: For a lot of my career, and for most of our lives, we could only write out a check. We just think the return on the investment is so much higher when combining time with monetary resources and specific talents. (We've included Bethel in our estate plan as well, and I almost forgot to mention it!) Giving then takes on a different dynamic, which is why I'd like to see more people give of their talents as well as monetary resources. I guess our legacy is that we're getting involved now in all three areas I mentioned.
Tammie: I'm not a big legacy person. I enjoy so much what I get to do. I think, as we're all wired differently, to do what we're wired to do has great benefits. That's part of the fun: You just get to do what you do really well, and God can use that.
Dean: I believe that the key is to get involved. Don't overthink it. Don't wait for the perfect time. Just get involved. Then the legacy will happen on its own.
Tammie: I don't want my legacy to be, "in the 2000s, Tammie led the Hymn Sing." I want it to be that music and worship was alive and vibrant at Bethel, for students and for alumni. I think that's part of legacy, too. If a person is concerned about their own personal legacy, then that's probably the only reward they're going to get. And we're not. We're concerned about the bigger picture. We're just here to point to God and His work.
Learn more about how a Donor-Advised Fund, Charitable Bequest, and an Endowed Scholarship can advance Bethel's mission