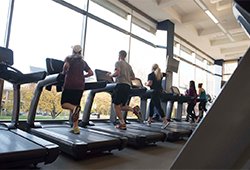 By Cherie Suonvieri '15, content specialist
March 28, 2019 | 3:15 p.m.
If you visit Bethel and ask about the journalism or communication studies programs, you won't get far without hearing the names Gene and Kathy Johnson.
A Bethel student dodges a few over-stuffed backpacks while weaving through Brushaber Commons on her way to biology lab. After, she'll make her way to the Wellness Center for a fitness class, before she settles in for the evening in Lissner Hall. In an afternoon, she's passed through at least four spaces that have been made possible by donors who gave to Bethel not just throughout their lives, but after them too.
The Brushaber Commons, the biology and chemistry labs, the Wellness Center, and Lissner are some of the larger projects that have been partially funded by estates left to Bethel through charitable bequests. "One theme we see is that when people decided to make these estate gifts, they often have no idea what the impact might be," says Dan Wiersum, associate vice president for planned giving. While the future is unknown, the historic impact of donors who have included Bethel in their will is evident.
Alvin Clauson
In 1976, Alvin Clauson donated 43,000 acres of land in Montana to Bethel through a charitable remainder unitrust. In most cases, the university sells gifted property and invests the proceeds-but in this case, the property was kept because it produced recurring income.
The Montana property, which spanned three counties, was leased to a number of ranchers. The rental income, in combination with royalty income from oil wells, provided anywhere between $100,000 and $350,000 a year, depending on oil prices. Bethel received 90% and Converge received the remaining 10% of this income.
Bethel sold the property in 2007 after the yearly income started decreasing. The sale provided Bethel with $4 million, which was instrumental in completing Brushaber Commons-the campus student center which has become "Bethel's living room" and houses Monson Dining Center, the 3900 Grill, Royal Grounds, Student Life, and Bethel Student Government, among other offices.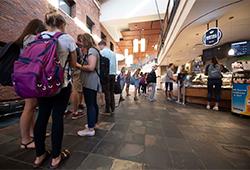 Lydia Holm and Edith Holm
Shortly after Brushaber Commons was complete, another project was underway: new biology labs. These labs were added in 2009 and were made possible in part by the estates of Edith Holm and Lydia Holm.
Sisters Edith and Lydia were educators. Edith worked for over 30 years as a high school teacher in Columbia Heights, Minnesota, and Lydia spent her teaching career on faculty at Denison University, Eastern Washington College, and Illinois Wesleyan University. "The interesting backstory is that they didn't always know about Bethel," says Angie Hjelle, executive director of the Bethel Foundation. "They had a bunch of books they wanted to donate. First they called another library, and they declined the books. Then someone suggested they call Bethel's library. The library accepted the books, and that's how they came to know Bethel."
"They appreciated Christian education, which was the reason for their interest in Bethel," Wiersum says. Each sister had the other as the benefactor of their estate. When Edith died in 1992, her estate went to Lydia. Lydia had a revocable trust which named Bethel as the beneficiary, so when she died in 2003, over $1.5 million went to Bethel. In addition to the biology expansion, this gift from the Edith and Lydia continues to fund student scholarships to this day.
Ralph Holman
It was Ralph Holman's personal story that led him to give back to Bethel. The scientist, famous for his pioneering research on omega-3 fatty acids, was a 1937 graduate of Bethel Junior College-but without the financial support of his church pastor, he might not have been able to afford to begin his post-secondary education. "He told that story time after time," Wiersum says, "and he wanted to give back to other students in need."
Holman graduated from Bethel and then went on to complete his undergraduate degree in biochemistry, his master's in biochemistry, and eventually his Ph.D. in physiological chemistry. In 1981, he was invited to become a member of the National Academy of Sciences for his work on omega-3 fatty acids.
But in his last years, Holman returned to Bethel several times to spend time with students. In 1991, Holman and his wife established the Ralph T. and Karla C. Holman Endowed Program in Chemistry at Bethel. In 1998, Holman was honored as Bethel's Distinguished Alumnus of the Year and the chemistry laboratory was named after him. Holman died in 2012, and according to Wiersum, the estate he left to Bethel has already provided over $1 million in funds which have helped fund chemistry department needs, student scholarships, and the construction of Lissner Hall.
Eunice Singfeldt
Eunice Singfeldt, a retired Chicago teacher, called Bethel one day requesting language she could include in her will so her estate would benefit Bethel. The retired Chicago public school teacher wanted 80% of her estate to fund scholarships and 20% to go toward capital projects.
Singfeldt wasn't a Bethel alumna. In fact, she attended Wheaton College and earned her master's degree from Northwestern University. When Wiersum visited her at her home in Chicago, she had literature from a variety of charities around her living room. "I was pleasantly surprised when she chose us," he says.
Singfeldt did have some Bethel ties. She grew up in Central Avenue Baptist Church in Chicago which had a Bethel connection. Her attorney happened to be a Bethel alumna. And her parents immigrated from Sweden, so there was something about Bethel's Swedish roots that resonated with her. "She must have felt like her school was Bethel, even though she never attended," Wiersum says.
When Singfeldt died in 2014, Bethel received just over $3 million-$2.4 million to create an endowed scholarship and $800,000 which helped Bethel reach the funds required to build the Wellness Center.
According to Wiersum, Singfeldt's gift came at just the right time. Bethel was around $2 million short of the $11 million needed for constructing the Wellness Center. Then within a week of each other, an alumni couple committed $1.2 million and Singfeldt's estate was disclosed. "We were all of a sudden there," Wiersum says. "It's just amazing. God knew back when Eunice was preparing her will that Bethel would need the money at this time."
The Wellness Center was completed in fall 2015 and has become a staple for many students, faculty, and staff at Bethel. By naming Bethel in their wills, donors like Singfeldt, Holman, the Holm sisters, Clauson, and others have left legacys that live on to impact the Bethel community both in daily life and for years to come.
Make an impact.
Learn more about creating a charitable bequest as part of your estate plan that can advance Bethel's mission.