With her bequest, Sagrid E. (Eleanor) Edman, founding chair of the Bethel University nursing program, looks to the future of nursing through a Christian worldview.
By Contributing Writer
May 7, 2021 | 9:00 a.m.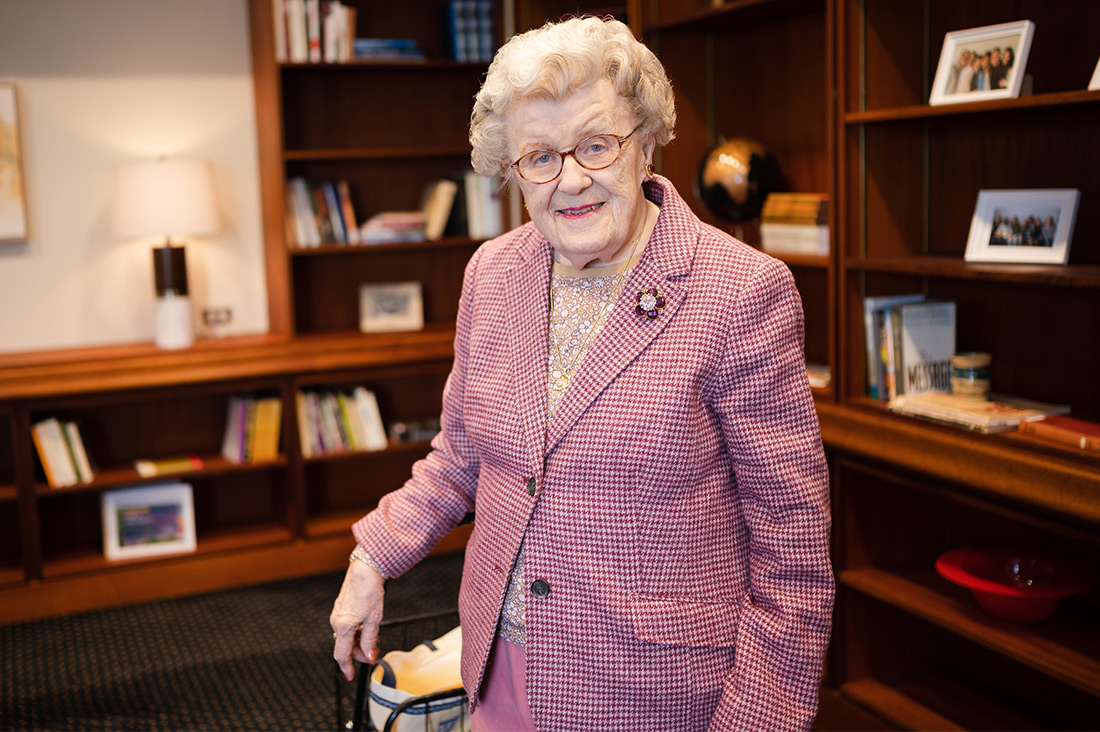 Sagrid E. (Eleanor) Edman has a knack for anticipating change and planning for it. She recently finalized plans to leave a bequest for Bethel in her will. She is giving her personal legacy the same care and attention she applied throughout her long career as founding director and chair of Bethel's nursing department.
In 1979, when Bethel first approached Edman to create a nursing program for the university, she anticipated what students would need: a combination of rigorous academic preparation, hands-on experience, and faith development. Edman knew nursing education was changing, and she was ready to do her part.
Already equipped with a master's degree and years of experience as a nursing professor in New York, she began her work at Bethel in 1981 and completed her doctorate in 1983. This background helped her foresee the complexities of modern healthcare: the innovations, the rising costs, role of nurses beyond hospitals, and the growing demands of leadership. Following God's call to help prepare future Bethel nurses, Edman found that His plan has exceeded her expectations.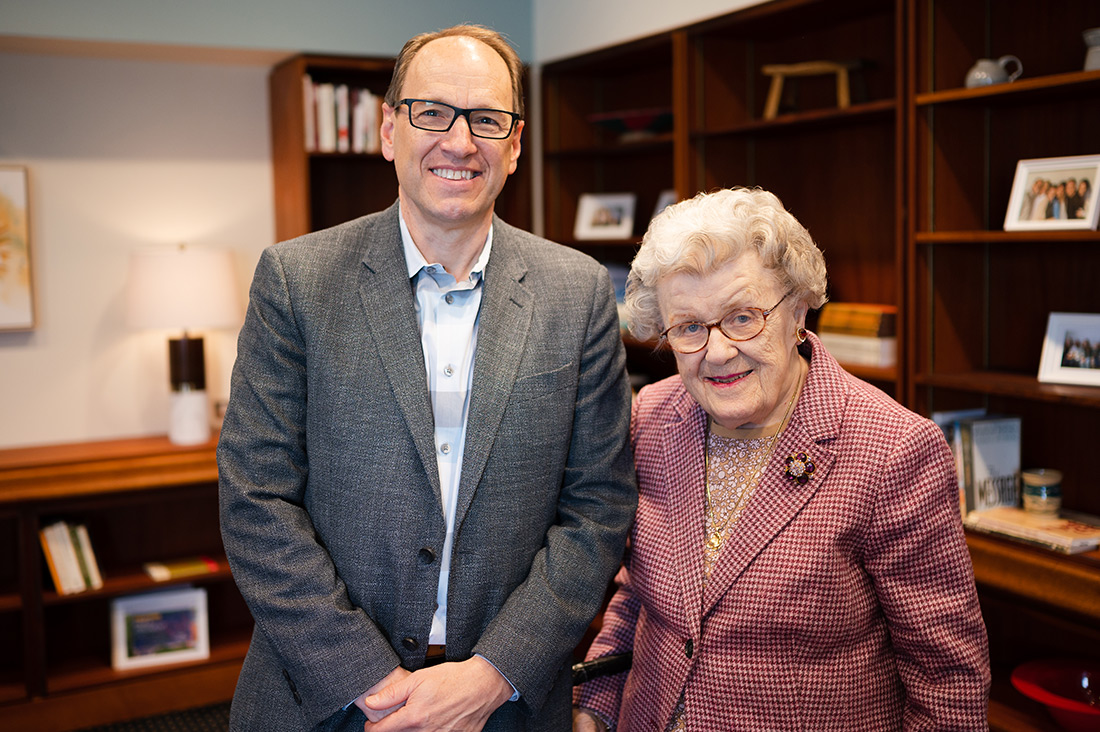 Today, nursing is the top declared major for Bethel's incoming class. The program ranks in the top 10 percent among 1,000 U.S. nursing programs, according to College Factual. Healthcare leaders have said they will hire a Bethel nurse before even seeing a resume—that's how much they trust the department Edman and her team of exceptional faculty created. That's her professional legacy.
When she retired in 1997, the Department of Nursing started a scholarship in Edman's honor. Today, three nursing scholarships bear her name: one each for undergraduate, graduate, and adult undergraduate nursing programs. Edman is already impacting the future of healthcare, but she wants to do more.
"Thank you so much for your generous donation, as this will help me fulfill my dream of becoming a pediatric nurse. I like to think of this scholarship as an opportunity to pass God's love forward."
—Hayley Ackerman '21, Sagrid E. Edman nursing scholarship recipient
Now 88 years old, Edman has created a plan for continuing this work far beyond her lifetime. In her will, she has arranged for Bethel to receive a significant percentage of her estate to benefit the nursing department and those three scholarships. Edman's planned gift will perpetuate her contribution as a visionary leader, serving Bethel for God's glory and her neighbors' good for years to come. This gift builds on her legacy of innovation for Bethel's nursing department, as she and her team developed curricula, gathered a group of skilled faculty with cross-cultural nursing experience, sought donations for medical equipment, and formed connections with a diverse range of clinical settings. "By the end of my career, we were offering clinical experience in at least 25 agencies: hospitals, clinics, public health departments, daycare centers," Edman says. "Now Bethel has something like 100 such relationships."
Over the years, Bethel's nursing department has grown, rooted in the foundation Edman helped establish. "I keep seeing God's hand on the nursing program," Edman says. "One of my joys is to see what they have done since I retired." Today, Bethel offers a suite of five nursing programs across three schools, ready to equip students for an impactful career in the field.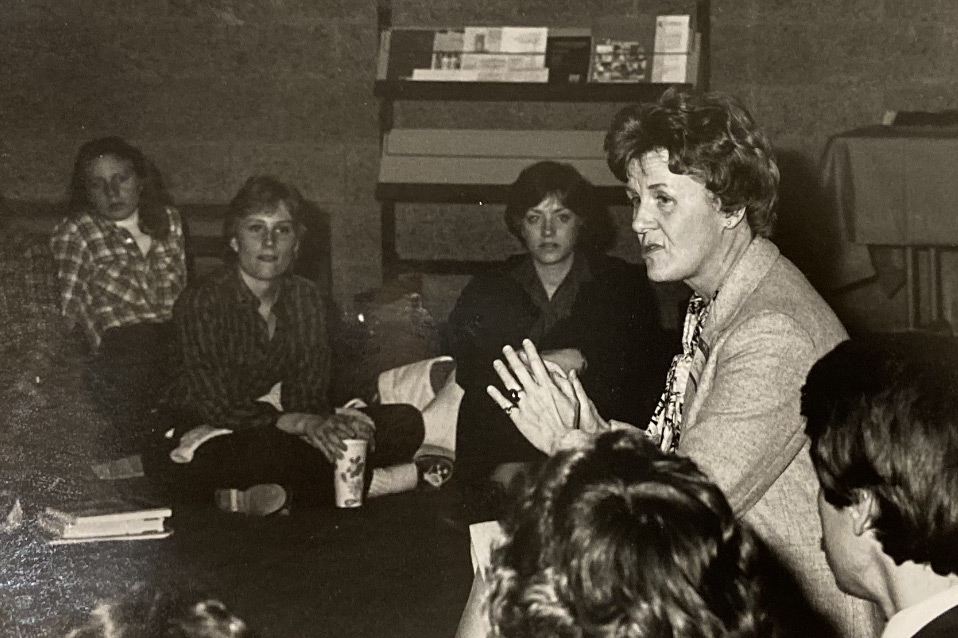 Edman also hopes that her bequest will offer a transformational experience for future Royals—in combination with gifts from others—so that nursing students will leave Bethel without debt, practice labs on campus will match those in the workplace, and above all, that Jesus will always be at the center of nursing education at Bethel.
"The kinds of things I've done—I've never made tons of money, but I do what I can to see that things continue," Edman says. As a natural planner who foresaw Bethel's thriving future, she has followed God's call to more and already impacted more lives than she can imagine, including those who have already received her nursing scholarships.
"I am a full-time registered nurse while obtaining my master's degree in certified nurse-midwifery. My graduate education is something I value immensely, and your support is the encouragement I need. 'Thank you' does not come close to expressing my gratitude."
—Sarah Seuntjens GS'22, Sagrid E. Edman nursing scholarship recipient
Five Fun Facts about Eleanor Edman
Her Advice to Students: "Nursing and faith go together. You aren't a nurse at work and a Christian on Sunday. You are a compassionate nurse in Christ."
Her Favorite Bible Passage: "For thou hast been my help, and in the shadow of thy wings will I rejoice" (Psalm 63:7-8).
Her Favorite Hymn: "Children of the Heavenly Father" by Carolina Sandell (1855)
Her Favorite Spot at Bethel: The old faculty lounge. "In the 1980s, we would have lunch together with faculty from the sociology, psychology, English programs," she says.
Her Motto: "Don't say no unless you absolutely have to."
Leave a legacy.
In addition to giving a one-time monetary gift or making a pledge, you can be a part of Bethel's mission by choosing from many unique planned giving options. Life insurance, non-cash assets, and securities are just a few of the tools Bethel donors like Eleanor Edman use to benefit their financial situation and make a gift to Bethel students at the same time.